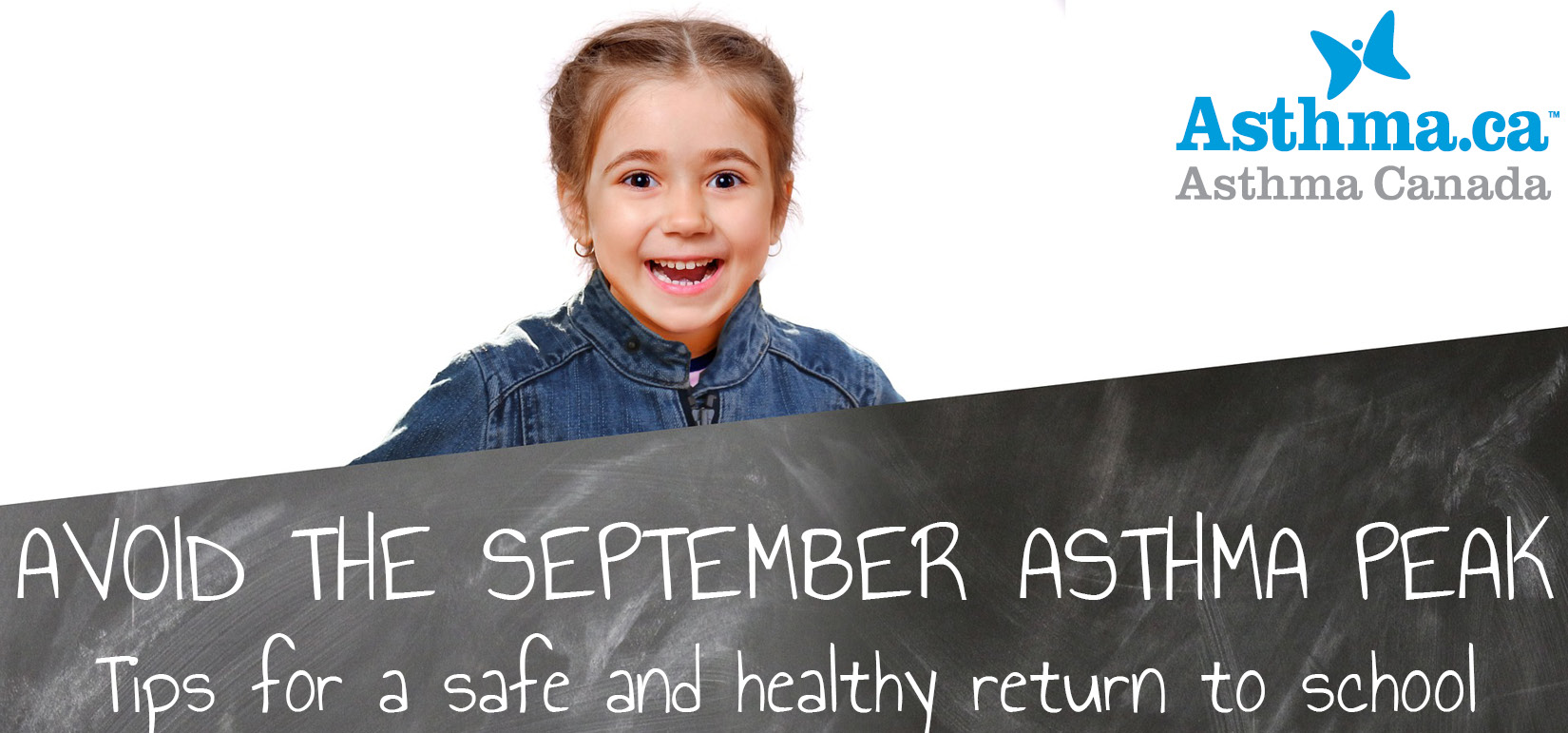 Is your Child Prepared for the September Asthma Peak?
For Immediate Release
September 13, 2017
TORONTO, September 13, 2017 – September has the unfortunate distinction of being the month when thousands of school-aged children end up in hospitals and emergency departments with asthma-related issues. The third week of September, in particular, is known as the September Asthma Peak.
In Canada, approximately 20% to 25% of children's hospital admissions for asthma occur in September.
"As children start returning to the classroom, a few simple precautions can prevent a trip to the emergency room," said Vanessa Foran, President & CEO of Asthma Canada. "The common-sense tips that we suggest can drastically increase the likelihood of a safe and symptom-free return to school."
There are numerous causes for the spike in asthma exacerbation in school-aged children around the third week of September. Kids returning to school face increased exposure to viral infections, a significant trigger of asthma symptoms, with more than 60% of those admitted to emergency rooms with asthma also suffering from rhinovirus (the common cold). For kids with asthma, especially uncontrolled asthma, a simple cold can lead to dangerous symptoms and unscheduled visits to doctors and emergency rooms.
Classrooms also present greater exposure to asthma triggers such as dust mites, moulds and animal dander. Additionally, September is when weed pollen tends to peak, triggering allergic asthma. Moreover, summertime often brings with it a disruption of routine – including compliance with asthma medications. This leaves children even more susceptible to asthma attacks in fall.
The good news?
90% of asthma-related hospital admissions are preventable with good control.
Parents of children with asthma should speak to their doctor about an Asthma Action Plan for their children. The plan is individually created for each asthma patient and is proven to help better manage a child's asthma. 
A fillable template can be downloaded from our website
. Other recommended tips include:
Share a copy of your child's Asthma Action Plan with school officials and teachers.
List and explain your child's asthma triggers and why it's important to avoid them.
Make sure your child is taking asthma-prevention medicine as prescribed.
Make sure your child knows how to use their puffer by themselves (if old enough), or with help.
Ask about the school's rules for asthma medications – stress the importance of allowing your child to carry his/her medicines at all times.
Teach your child proper hand washing techniques and stress the importance of frequent hand-washing.
Make sure your child and family members get the seasonal flu shot every year.
Asthma Canada has a number of resources 
available on our website
 to help parents navigate a healthy and safe return to school for their children.
About Asthma Canada
Asthma Canada is the only national organization solely dedicated to enhancing the quality of life of all Canadians affected by asthma. It advances optimal self-management and prevention through evidence-based education and supports, research and advocacy. Asthma Canada has a 40-year reputation of being the balanced voice for asthma in Canada.
-30-
Media Contact:
Vanessa Foran
President & CEO, Asthma Canada
416-787-4050 x100