It is with a heavy heart that we say our farewells to Maninder Singh. Just a day after his 29th birthday, Maninder's life was claimed by a fatal asthma attack. Remembered by his family and friends as a loving boyfriend, brother, son, and person, life will not be the same without Maninder's smile.
It is heart-wrenching that Maninder passed away just after his 29th birthday. He intended to celebrate by throwing a party with his friends, but was tragically unable to. Maninder had mild to moderate bronchial asthma and neither his family nor him could have ever imagined that his asthma would claim his life.
Even the mildest forms of asthma are life-threatening if not properly managed and treated. To prevent tragic deaths due to asthma attacks, we kindly urge you to donate to Asthma Canada in memory of Maninder Singh. Every dollar we receive helps us get closer to realizing our vision of a future without asthma. Your generous donation will be used to support our asthma education, research, and advocacy initiatives, as well as raise awareness so that we can prevent asthma from claiming lives.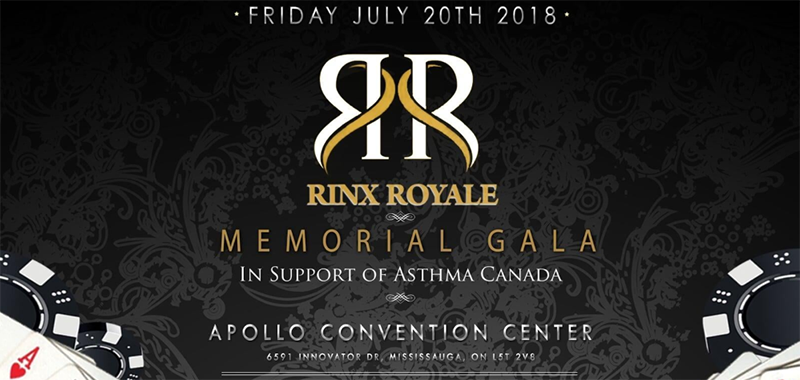 To give Maninder the party he never had the chance to celebrate, his family is commemorating his life at the biggest birthday bash ever: The Rinx Royale Memorial Gala. This casino-themed party was designed after one of Maninder's favourite movies, Casino Royale, and is expected to have between 300 to 400 attendees.
Asthma Canada is proud to support Natasha Grabb, Sunny Singh, and the team of volunteers that are organizing the Rinx Royale Memorial Gala. If you are unable to attend the event or would like to show your support through other means, please make a donation to Asthma Canada in memory of Maninder Singh.
Donate in Memory of maninder singh
Remembering Maninder Singh 
Maninder Singh was known as a helpful, outgoing, and passionate person. He was affectionately called "Rinku" by his close family and friends, who knew him for his love of cars. Rinku could always be seen working on cars (namely his "baby", a 1997 240SX) and would never hesitate to help his family and friends with their car projects. Whether at the local coin-op car wash, at his local Tim Horton's coffee and cars meet, at car shows, or just cruising with his buddies; his passion for cars was eminent. This fiery passion was what led Rinku to meet his girlfriend Natasha Grabb in 2013, where the two of them bonded over their mutual interest in cars. His outgoing, caring, charming, and loving personality will truly be missed.
Rinku attended Centennial College for an automotive program, where he quickly established a reputation for being big on cars. After graduating, he pursed aircraft mechanics and was placed at Mitsubishi Heavy Industries Canada Aerospace (MHICA), where he became involved in the assembly of the company's private jets. Rinku was in the middle of training at Bombardier in Montreal when asthma tragically claimed his life. He was a bright, young man who was well on his way to having a fulfilling career.