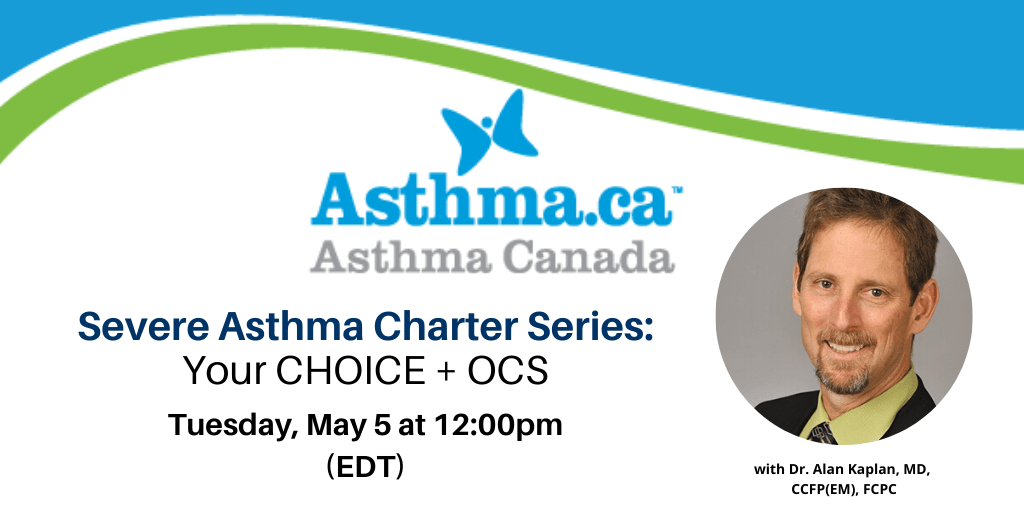 It is estimated that as many as 250,000 Canadians suffer from Severe Asthma.
People living with Severe Asthma often experience adverse effects from treatments used to manage asthma attacks, like oral corticosteroids (OCS). If these treatments are used long-term, the resulting adverse effects may include weight gain, diabetes, osteoporosis, glaucoma, anxiety, cardiovascular disease, and impaired immunity. These effects can have a significant impact on a patient's other health conditions and overall quality of life. 
Now that new, targeted treatment options are available, there is a growing call for Severe Asthma care to be less reliant on the long-term use of OCS to prevent asthma attacks.
Watch Part One of Asthma Canada's webinar series: The Severe Asthma Charter Series: Your Choice and OCS.
What you'll take away:
Severe Asthma vs. uncontrolled asthma
Steps you can take to evaluate and manage your asthma
Treatment options
Some information you may not have even thought about!
GUEST SPEAKER: DR. ALAN KAPLAN, MD, CCFP(EM), FCPC
Dr. Kaplan is a Family Physician practicing in York Region, Ontario, Canada. He is the Chairperson of the Family Physician Airways Group of Canada and the former Chairperson of the Respiratory Section of the College of Family Physicians of Canada. He is a Senate member of the International Primary Care Respiratory Group and a representative of the College of Family Physicians of Canada to the SARS clinical working group.