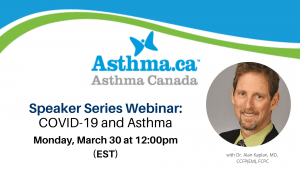 Dr. Kaplan's webinar , "COVID-19 and Asthma" will focus on questions around COVID-19 and its impact on those with asthma or caring for those with asthma.
This webinar is open to all Canadians with asthma or caregivers of Canadians with asthma.
Please note that space is limited to the first 1000 participants, but this webinar will be recorded and posted publicly so you can view any time.
What you'll take away:
Updates on the current situation with updates from the Public Health Agency of Canada and the World Health Organization
An understanding of COVID-19 risks to the general population and specifically to those living with asthma
Steps people with asthma can take to stay healthy
Answers to Frequently Asked Questions
GUEST SPEAKER: DR. ALAN KAPLAN, MD, CCFP(EM), FCPC
Dr. Kaplan is a Family Physician practicing in York Region, Ontario, Canada. He is the Chairperson of the Family Physician Airways Group of Canada and the former Chairperson of the Respiratory Section of the College of Family Physicians of Canada. He is a Senate member of the International Primary Care Respiratory Group and a representative of the College of Family Physicians of Canada to the SARS clinical working group.