Taking Control of Your Asthma
Asthma Canada and McMaster University are pleased to provide you with an interactive e-Learning module that consists of animations and illustrations to help you understand how to Take Control of Your Asthma.
Asthma doesn't have to control your life. Instead, you can control your asthma by:
The goal of asthma management is to obtain total asthma control and maintain it over time.
Total asthma control means:
No daytime symptoms
No nighttime symptoms
Not needing to use your reliever medication (no more than 4 or more times in a week)
No school or work absenteeism due to asthma
Normal breathing tests
To find out how well you're managing your asthma, take our interactive quiz, How Much is Too Much?
Talk to your doctor about a referral to a specialist if:
You are taking asthma medications but are not getting better
Your asthma is made worse by your work environment (occupational asthma)
You have been admitted to the hospital for your asthma
You are experiencing side-effects from your asthma medications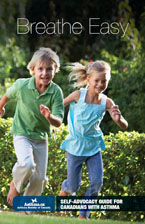 Breathe Easy – Self-Advocacy Guide for Canadians with Asthma is our handbook which will help guide you through complex healthcare systems and learn about the people who can help you control your asthma.