Dealing with asthma and allergies can be difficult, but you don't have to face it alone
Whatever your inquiries are about asthma and respiratory allergies, our team of expert Certified Respiratory Educators (CREs) can provide you with personalized support and advice. Call 1-866-787-4050 or email info@asthma.ca to connect with a CRE.
Who can call the HelpLine?
Our Asthma & Allergy HelpLine is a FREE call-back or email service available to all Canadians. Whether you have asthma and other respiratory allergies or are a caregiver, our team of expert CREs can support you.
How can the Asthma & Allergy HelpLine help me?
Our friendly CREs are located all across Canada and are experts in the field of asthma and allergy education. They can provide up-to-date information and personalized advice in both English and French about:
Newly diagnosed asthma

Managing symptoms

Avoiding specific triggers

Treatment options
Don't hesitate to ask your most pressing questions about asthma and allergies. Our CREs are here to help you with proper care and management so that you can live your life symptom-free.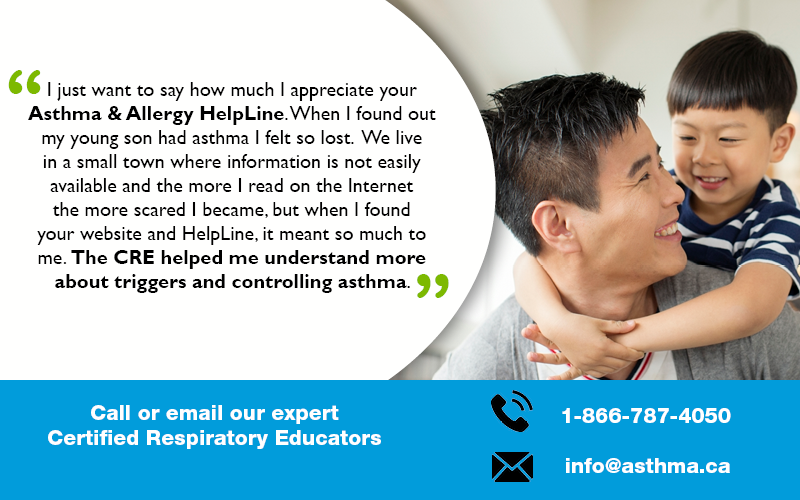 When can I expect a response?
Amid the COVID-19 pandemic, our HelpLine is experiencing higher than normal call volume. You can expect a response from our CREs within 7 business days. They will respond back to you through your preferred contact method (phone or email).
What if it's an emergency?
Please note that this is not an emergency service. If you are experiencing an asthma attack or another emergency right now, please call 911 for an ambulance. If you are having immediate difficulties with your asthma, please contact your healthcare provider.  
Disclaimer
The information provided on this site is designed to support, not replace, the relationship that exists between a patient/site visitor and his/her existing physician.
This is not an emergency line. In case of an emergency or an asthma attack, please go to the ER or call 911.