Graduate Student Awards in Asthma: Call for Applications Now Open
Deadline: April 17, 2023 at 11:59 pm in the time zone of the applicant
The objective of the Graduate Student Awards in Asthma is to create value-added opportunities for the training, education and professional development of graduate students, to ensure continued understanding of causes, mechanisms, improvement of asthma treatments and progress towards finding a cure for asthma.
There are four awards for PhD students valued at $30,000 each and three awards for MSc students valued at $15,000 each.
This award is supported by Asthma Canada, CAAIF and CIHR-ICRH
The Asthma Canada National Research Program invests in Canadian research through annual Graduate Student Research Grants. 
---
Graduate Student Research Grants
By investing in emerging Canadian researchers and supporting their promising research, we ensure continued efforts to search for a cure for asthma while taking real strides towards better treatment options for Canadians living with asthma.
Alongside the Canadian Allergy, Asthma and Immunology Foundation (CAAIF), and the Canadian Institutes of Health Research Institute of Circulatory and Respiratory Health (CIHR-ICRH) Asthma Canada is pleased to fund full-time graduate students (MSc and PhD) conducting research activities in the field of asthma as part of the Graduate Student Awards in Asthma. 
The objectives of the awards are to provide value-added opportunities for the training, education, and professional development of graduate students whose research focuses on the understanding of causes, underlying mechanisms,or improvement of asthma treatments to progress towards finding a cure for asthma.
Asthma Canada works to provide research grants to scientists who are searching for more effective treatments for controlling asthma, keeping the airways open and making breathing easier for millions of people with asthma. With your support, we will continue working to provide assistance to researchers as they strive to find a cure.
From 2017 to 2019, we partnered with AllerGen NCE Inc. to award these grants, and from 2020 to 2021 we worked alongside partner CAAIF to award the grants. ​
The below funds support our National Research Program grants for students:
The Dr. Goran Enhorning Asthma Research Fund
In October 2015, Asthma Canada received a gift on behalf of the Dr. Goran Enhorning Foundation for Pulmonary Research. This donation has been allocated to support further research into finding a cure for asthma and continuing some of the research first started by Dr. Enhorning in the 1990s. 
The Bastable-Potts Asthma Research Fund
In early 2014, Asthma Canada established the Bastable-Potts Asthma Research Fund following the receipt of a bequest from the estate of Gail Suzanne Potts, who died in 2012. Mrs. Potts' mother suffered from adult onset of asthma. Her desire was to advance research into the multiple factors that contribute to the development of asthma.
Christiane Whetstone
2022 Recipient, Graduate Student Research Award
Christiane Whetstone
McMaster University
Research Project: 
"Effects of inhaled allergen on eosinophil phenotypes in blood and airways of patients with allergic asthma"
Christiane is a PhD candidate at the McMaster University. She completed her undergraduate degree at Queen's University before joining the Medical Sciences Program (Physiology and Pharmacology) at McMaster and transferred from MSc to PhD program in 2020. Christiane's research examines mechanisms of allergic disease with a specific focus on the role of eosinophil, basophils and their progenitor cells in airways and skin of allergic patients, using methodologies including immunofluorescence microscopy and flow cytometry. Her data is generated from clinical trials with interventions to deplete (benralizumab) or to induce (allergen challenge) eosinophilia. Her academic goal is to become a translation scientist continuing to develop targeting medicine. Outside of research, Christiane enjoys playing tennis and horseback riding.
Courtney Marshall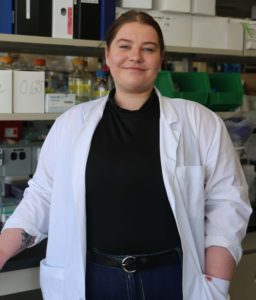 2022 Recipient, Graduate Student Research Award
Courtney Marshall
University of Manitoba
Research Project: 
"Sex-related differences in immunomodulation of airway inflammation by Innate Defence Regulator (IDR) peptides"
Courtney Marshall is a PhD student in the Department of Immunology, University of Manitoba, in Dr. Neeloffer Mookherjee's laboratory. Prior to this, she completed her undergraduate degree in Biology at the University of Manitoba with two Co-Op positions, the first at AdMare Bio-innovations in Vancouver, BC, followed by a position in the Mookherjee lab. This experience led to her pursuing graduate studies as a master's student where she then successfully transferred into the PhD program to continue her research on defining the sex-related differences in the immunomodulation of airway inflammation by Innate defence regulator peptides. Ms. Marshall's academic and research success has resulted in awards such as the CIHR-CGS (M) scholarship, the Mindel and Tom Olenik Entrance Scholarship, and the Research Award in Immunology. Following her PhD, Courtney hopes to obtain a post-doctoral position fellowship that allows her to transition into a leading independent Principal Investigator at a Canadian University.
Darlene Dai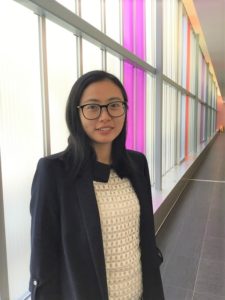 2022 Recipient, Graduate Student Research Award
Darlene Dai
University of British Columbia
Research Project: 
"Mining the infant gut microbiota to predict and prevent asthma: data from the CHILD Cohort Study"
I have an MSc in Statistics from UBC and 7-year work experience as a biostatistician in discovering genomic biomarkers of cancer, heart and lung disease in academic and industry field. I am currently pursuing my PhD degree in Experimental Medicine at UBC under the co-supervision of Drs. Stuart Turvey (clinician-scientist) and Raymond Ng (data scientist). My research focuses on discovering and understanding the infant gut microbiome, metabolome, and epigenome compositions that in combination with host and environmental factors, can predict risk of early-onset asthma. By using CHILD Cohort Study, my PhD project aims to develop a precision health approach empowered by "omics" to predict, and ultimately to prevent early-onset asthma. Come meet me if you would like to learn more about me and my research!
In my free time, I enjoy spending time with my family, gardening and trying new restaurants.
Fang Fang Li
2022 Recipient, Graduate Student Research Award
Fang Fang Li
University of British Columbia
Research Project: 
"Uncovering viral determinants of asthma development by serological profiling"
Fang Fang is a PhD student at the University of British Columbia in the Department of Pathology and Laboratory Medicine. Her research focuses on identifying and understanding the contributions of viruses in pediatric disease pathogenesis through the usage of adapted sequencing methodologies. She has previously been supported by an Undergraduate Summer Research Award from the Natural Sciences and Engineering Research Council of Canada as well as a Canada Graduate Scholarship – Master's from the Canadian Institutes of Health Research for her work in linking immune responses to disease. In the future, Fang Fang hopes to discover and utilize new markers of pathogenesis to develop novel and minimally invasive prognostic and diagnostic tests for chronic diseases. When she's not in the lab, Fang Fang enjoys teaching her dogs new tricks and curling up by the window with a good detective novel in hand.
Harkiran Kooner
2022 Recipient, Graduate Student Research Award
Harkiran Kooner
Western University
Research Project: 
"Are CT Mucus Plugs disrupted following two years of Benralizumab treatment in severe, eosinophilic asthma?"
Harkiran is a third-year PhD student in the Department of Medical Biophysics at Western University. Her research focuses on the use of hyperpolarized
129Xe MRI and CT to evaluate structure-function relationships in asthma and post-acute COVID-19 syndrome. Harkiran's research contributes to the growing body of evidence suggesting that the integration of imaging in clinical settings can help achieve the overarching goal in asthma of delivering the right intervention, to the right patient, at the right time. In the future, Harkiran aims to secure a research position with a clinical focus to continue her PhD work in pulmonary imaging and its use to improve patient outcomes.
Nadia Suray Tan
2022 Recipient, Graduate Student Research Award
Nadia Suray Tan
McMaster University
Research Project: 
"Aberrant lymphocytes and airway autoimmunity: Connecting severe asthma and EGPA pathology."
Nadia Suray Tan is currently pursuing her Master's degree under the supervision of Dr Manali Mukherjee in Medical Science at McMaster University. She completed her Bachelor of Science with Honours (Distinction) in Life Sciences, specializing in Biomedical Science from National University of Singapore (NUS) and have been involved in translational research ever since. She joined NUS Immunology Programme (under the supervision of Dr Lim Hui Fang and Dr Veronique Angeli) and was involved in research on the immunopathology of severe asthma and other chronic lung diseases that were presented in various international conferences. Her previous work in NUS that focuses on the involvement of B cells in severe eosinophilic asthma was recently published in American Journal of Respiratory Cell and Molecular Biology. Nadia is a motivated and independent researcher with experience in areas of immunology, biochemistry, histology and translational research. Her current thesis work focuses on studying the lymphocyte mediated pathology that connects severe asthma and Eosinophilic Granulomatosis with Polyangiitis (EGPA), a rare, life-threatening autoimmune disorder. She hopes that her research will leverage her research experience and increase my depth of knowledge in asthma and airway research.
Tony Guo
2022 Recipient, Graduate Student Research Award
Tony Guo
University of British Columbia
Research Project: 
"Characterization of the airway epithelial repair process in late-onset asthma following mechanical, viral, and particulate matter injury of the epithelium."
Tony Guo is in his first year of his Master of Science program in Experimental Medicine at the University of British Columbia. His project will investigate how the repair mechanisms of the airway epithelium may be different in adult-onset asthma under the supervision of Dr. Delbert Dorscheid. He completed his Bachelor of Science program specializing in Physiology at UBC and his thesis project explored the airway epithelium's responses to models of SARS-CoV-2 infection. With the support of Asthma Canada, CAAIF, and CIHR-ICRH, he aspires to contribute to the understanding of adult-onset asthma, whose underlying causes are currently not well defined, in an effort to improve the health and well-being of people living with asthma. During his program, he aims to mentor students interested in airway epithelial biology and asthma to support and guide them in their pursuit of research in the field.
Vincent Dandenault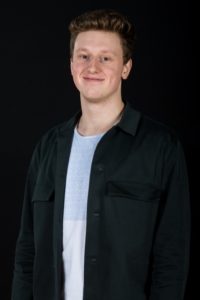 2022 Recipient, Graduate Student Research Award
Vincent Dandenault
Univerity of Montreal
Research Project:
"Application of Bayesian networks to multi-omics data to improve the diagnosis of asthma in preschoolers."
Vincent Dandenault is a graduate student doing research in the field of computational medicine at CHU Sainte-Justine Hospital in Montreal, Quebec. Coming from a background in software engineering, he is specialized in machine learning and looking to apply his set of skills, knowledge and experience in these complexe and powerful algorithms to the world of respiratory health, more specifically to the research and understanding of preschool asthma.
Currently, doctors do not fully understand the underlying mechanisms of asthma, and they can't reliably test preschool aged children for asthma. Thus, they do not know which preschoolers with breathing difficulty actually have asthma or not, and who can benefit from available medication and treatments. Accordingly, Vincent's primary goal as a researcher is to better understand the underlying mechanisms of asthma, and to ultimately link the current different observed phenotypes to different underlying pathways, leading to better diagnosis of preschool asthma, and consequently better patient care. Suffering from respiratory problems himself as a child, he can understand how scary and worrying asthma can be, notably asthma attacks and exacerbation, for patients and their loved ones. Ultimately, Vincent's goal is to use machine learning to shed light on these problems.
​​Early Career Researcher Awards in Asthma
Asthma Canada, AstraZeneca Canada, the Canadian Allergy, Asthma and Immunology Foundation (CAAIF), Canadian Institutes of Health Research's Institute of Circulatory and Respiratory Health (CIHR-ICRH) and the Canadian Lung Association (CLA) are pleased to announce the launch of a new funding opportunity focused on asthma research.
The goal of the Early Career Researcher Award in Asthma is to support and enable Canadian researchers at the early stages of their independent research career to pursue basic, clinical, health services and/or population health research in the field of asthma. 
Dr. Cristina Longo
2022 Recipient, Early Career Researcher Award in Asthma
Dr. Cristina Longo
Université de Montréal
Research Project: 
Treating Asthma by Integrating Learning Algorithms with Omics Research: Moving toward Automated High-Dimensional Endotyping in Children (TAILOR-MADE)
Asthma is a disease of the lung and is common in kids. Asthma symptoms happen when your airways tighten and swell, causing breathing problems like wheezing.  Another word for swelling is inflammation. Sometimes the inflammation could make it very hard to breathe. This is an asthma 'attack.' Asthma attacks are more common in preschoolers than other age groups. When asthma symptoms happen, kids need to visit their doctor for a diagnosis and treatment. Sometimes, doctors cannot confirm asthma in young children because they are unable to perform the test needed for a diagnosis. On the other hand, they can try to treat the inflammation that happens with asthma symptoms by prescribing medicines that you inhale. A major problem is that these medicines do not always work. This led scientists to try to understand why that is.
Scientists now think that asthma is not just one disease, but many different diseases that need different medicines. We still do not know much about these different diseases in children who have asthma symptoms. But we think that we can understand a lot more about the disease processes by collecting different biological samples, like blood, breath, or saliva, from children and then analyzing them with new technologies. The samples contain signals that can help us identify the different disease processes. These signals are also called biomarkers. There are millions of biomarkers in the body and this large amount of data makes it challenging to find which biomarker might be important for the disease process. We now have advanced computer tools, called machine learning, that can help us with this 'big data' problem.
The goal of my research is to use machine learning to discover important biomarkers of different disease processes in children with asthma symptoms that can help doctors predict whether asthma medicines will work well in them. To do this, my research team will analyze clinical and biological biomarker data from 282 preschoolers and children with asthma symptoms. We expect the results to help doctors identify which children will benefit from treatment or help develop new medicines for those that will not benefit. 
Dr. Zihang Lu
2022 Recipient, Early Career Researcher Award in Asthma
Dr. Zihang Lu
Queen's University 
Research Project:
Asthma phenotypes, risk factors and the implications for future management in Canadian children
Asthma is the most common chronic disease of childhood, usually beginning in preschool and lasting through adulthood. In preschool, defining asthma is challenging for two reasons – a lack of objective measures along with a heavy reliance on a non-specific symptom of wheeze and a diverse clinical course reflected by remission and relapse. Earlier research tells us that asthma is likely caused by several different pathways that are influenced by genetic and environmental risk factors. These pathways are defined by their clinical traits during their later life, e.g. persistent wheeze, transient wheeze. We believe these disparate pathways reflect different types of asthma (asthma phenotypes)  and we will try to move towards a more objective method to identify these pathways in early life. To do this, we will use two research data platforms, namely the CHILD Cohort Study and the Canadian Urban Environmental Health Research Consortium (CANUE). The first aim is to define distinct asthma phenotypes by applying data-driven methods to asthma traits (e.g. wheeze, atopy, body mass index), and to determine whether these phenotypes are different in males and females. The second aim is to determine key early-life risk genetic and environmental factors associated with these distinct phenotypes. This study will address several knowledge gaps in our understanding of early life asthma phenotypes as well as the influences of genetic and environmental exposures on these patient phenotypes. It will also promote future studies to help us better understand the underlying disease mechanism and provide important evidence to develop disease prevention and management strategies for families, clinicians, and policymakers.
Caren (Xiaoshu) Cao
2021 Recipient, Bastable-Potts Graduate Student Research Award
Biography: Caren (Xiaoshu) Cao completed her HBSc and MASc as top students at University of Toronto, and is currently pursuing her PhD in Biomedical Engineering at University of Toronto. Her thesis work focuses on the discovery and treatment of novel physiological mechanisms of asthma worsening and its connection to obstructive sleep apnea, using advanced biomedical technology. Her previous work funded by Asthma Canada was recently published in the American Journal of Respiratory and Critical Care Medicine. She also has another publication related to aspects of her PhD work and four publications arising from her previous Masters thesis. She has already won four awards during the course of her PhD, including first prize in a national research competition. She has presented her research at six international and national conferences to date, including European Respiratory Society and World Sleep Congress. Caren's work is highly innovative, focusing on understudied aspects of physiology at a time when asthma research has been focused primarily on pharmacological treatments. Caren hopes that this program of research could define an important new direction for the monitoring and treatment of asthma. If successful, it will also build new capacity for Canadian research in the application of new biomedical technologies for asthma management. 
Research Project: Understanding the link between obstructive sleep apnea (OSA) and asthma
Asthma and obstructive sleep apnea (OSA) are very common breathing disorders that cause disability and poor quality of life. Asthma and OSA often occur together but the reason for this remains unclear. Our research group has established that body fluid moving from the legs to the upper body during sleep is a cause of OSA. In previous studies, my colleagues showed that squeezing fluid out of the legs into the chest in asthmatics worsens their asthma by causing narrowing of their small airways. Therefore, I propose to investigate the possibility that OSA worsens asthma by increasing chest fluid volume overnight. Results from my previous research project funded by Asthma Canada showed that mimicking OSA draws fluid into the chest and increases small airway narrowing. This result provides strong evidence that one link between the two disorders is probably fluid moving into the chest. The second study will determine if asthma patients with OSA have more fluid moving into the chest and greater small airways narrowing overnight. The outcome of my research could lead to a novel approach to treating some cases of asthma: i.e. by diagnosing and treating co-existing OSA. Therefore, patients with poor asthma control may benefit from OSA screening. Ultimately, should my hypotheses prove correct, clinical trials could be designed to determine whether treatment of OSA can improve patient-centred outcomes over long time periods and reduce healthcare utilization.
Andrew Kouri
2021 Recipient, Bastable-Potts Graduate Student Research Award
Biography: Andrew Kouri is a respirologist and PhD student at the University of Toronto with an interest in airways diseases and how technology can be leveraged to improve the care of patients with asthma and COPD. His research investigates how mobile health tools are developed and used in older adults with airways disease, applying a health equity lens to the growing field of respiratory digital health. His academic goal is to become an  independent clinician-scientist and to study how best to deliver virtual and digital health technology to patients with asthma and COPD, including populations who are currently underserved by these promising health innovations. Outside of the hospital he loves cycling and running, hiking with his wife and lazy pug (and hopefully soon with his 2 month old newborn son!), and dreaming of future travels!
Research Project: My PhD research project is focused on trying to develop a deeper understanding of how mobile digital health tools like smartphone apps and electronic inhalers and other devices can be best used to help treat patients with asthma. I am particularly interested in how older patients use these type of tools, and how we can better design and implement mobile health technology in older patients with asthma. In order to accomplish this, I have studied specifically how older age influenced the use and engagement with a primary care mobile health asthma questionnaire developed at St. Michael's Hospital by Dr. Samir Gupta, I am completing a literature review across all published studies of asthma mobile health to see how the needs of older adults have been considered (or not considered), and I am running a qualitative study where I am interviewing older adults with asthma in order to better understand their needs and unique perspectives when it comes to using mobile health technology.  
Samantha Lee
2021 Recipient, Goran-Enhorning Graduate Student Research Award
Biography: Samantha is a third year PhD student at the University of Manitoba in the Department of Biochemistry and Medical Genetics. Her research aims to clarify the molecular mechanisms underlying the developmental origins of childhood asthma using longitudinal DNA methylation microarray data from several human cohorts. In the past, Samantha has received support from the University of Manitoba Undergraduate Fellowship (UMGF), and she is currently completing her second year as a student in the competitive Visual and Automated Disease Analytics (VADA) graduate training program jointly hosted by the University of Manitoba and University of Victoria. In the future, Samantha hopes to apply her analytical skills in computational biology to improve the public health of Canadians. In her spare time, Samantha enjoys helping animals as a volunteer at the Winnipeg Humane Society.
Research Project: Prenatal air pollution exposure is associated with an increased risk of childhood asthma. While the mechanisms underlying this association remain unclear, researchers believe that environmental exposures become biologically embedded in epigenetic patterns during critical developmental periods. These altered patterns are thought to "reprogram" cell function, and ultimately influence health outcome. This research project will identify epigenetic patterns associated with prenatal air pollution exposure at birth and examine whether these patterns persist into childhood. Epigenetic changes will be correlated with childhood asthma to determine their role in asthma risk. However, we are most interested in the association between persistent epigenetics changes and asthma, as persistent epigenetics changes are more likely to influence health outcome than transient ones. This analysis will provide insight into molecular pathways that are altered by prenatal air pollution exposure and contribute to asthma. Additionally, as we believe air pollution induces epigenetics changes through increased oxidative stress, this research will investigate if maternal diets higher in antioxidants (like vitamin C) can mitigate the effect of prenatal air pollution exposure on child epigenetic patterns. Together, this research will help clarify how prenatal air pollution exposure predisposes children to asthma and begin identifying preventative measures.
Anthony Altieri
PhD candidate, University of Manitoba
Aubrey Michi
PhD student, University of Calgary
Jo-Chiao Wang
PhD student, Universite de Montreal
Moïra Dion
PhD student, Université Laval
2019 Recipient, Goran-Enhorning Graduate Student Research Award
Understanding the Role of the Human Gut Virome in the Development of Early-onset Asthma
Dion received $20,000 from Asthma Canada and CAAIF to develop computer tools to precisely identify bacteriophages and what bacteria they infect. She will then determine if children that develop asthma have different bacteriophages, which will contribute to understanding what triggers asthma in early life.
Lead Investigator Awards
We continue to support lead investigators working to expand our understanding of asthma and find new treatment options for people living with asthma.
Dr. Michael Brauer
Recipient, Lead Investigator Award
A professor at the School of Population and Public Health at the University of British Columbia, Dr. Brauer is the inaugural recipient of Asthma Canada's Bastable-Potts Asthma Research Prize for his ground-breaking research into traffic-related air pollution and its relationship to asthma in both adults and children. In his study he showed a prevalence of physician- diagnosed asthma and respiratory illness among children aged 0-24 months, who lived near and were regularly exposed to traffic related air pollution.
His work is being recognized by the Asthma Canada as a significant contribution to Canadians suffering from allergies and asthma.
Dr. Malcolm Sears
Recipient, Lead Investigator Award
A professor in the Department of Medicine at McMaster University, Dr. Sears conducts innovative research into the epidemiology and natural history of asthma with a focus on its frequency, risk factors and characteristics in large populations. One of his most important studies to Asthma Canada was his longitudinal study examining the incidence and impact of asthma in a birth cohort of New Zealand children followed from infancy to adulthood. He is now conducting the Canadian Healthy Infant Longitudinal Development (CHILD) Study assessing the influence of genes and the environment on infant development, which will add important information and understanding to the development of asthma in children and its impact in adults.

Dr. Parameswaran Nair
Recipient, Lead Investigator Award
A professor of Medicine at McMaster University, Dr. Nair is recognized for his innovative research investigating non-invasive measurements of airway inflammation in the treatment of Severe Asthma. He directs the AllerGen National Centre of Excellence Clinical Investigators Consortium for Severe Asthma and is a co-investigator of the Canadian Respiratory Research Network. At the Firestone Institute for Respiratory Health at St. Joseph's Healthcare Hamilton, he looks after patients with complex obstructive airway diseases, Severe Asthma, recurrent bronchitis, and lung disorders.
Dr. Shawn Aaron
Recipient, Lead Investigator Award
A professor in The Department of Medicine at the University of Ottawa and a Senior Scientist at the Ottawa Hospital Research Institute, Dr. Aaron is a respirologist with special research and clinical interests in chronic obstructive pulmonary disease (COPD), asthma and cystic fibrosis (CF). Dr. Aaron's research has been focused on clinical and health services research related to the correct diagnosis and treatment of obstructive lung diseases (asthma and COPD) in Canadian communities. Dr. Aaron is Principal Investigator and Director of The Canadian Respiratory Research Network, a CIHR Emerging Research Network whose goal is to bring together researchers across disciplines to work together in a coordinated fashion in order to improve understanding of the origins and progression of asthma and COPD in Canada.
Dr. Aaron is recognized for the importance of his research examining misdiagnosis of asthma and the prevalence and economic/ health burden of undiagnosed airflow obstruction in Canadian communities. We also recognize his significant life-time achievements in asthma-related research over a very distinguished career.
Dr. Catherine Lemière
Recipient, Lead Investigator Award
Dr. Catherine Lemière MD, MSc is a Professor of Medicine at the Université de Montréal and a Staff Chest Physician at Sacre-Cœur Hospital in Montreal. Dr Lemiere's research program is mainly focused on work-related asthma, asthma and more specifically, on the assessment of the airway inflammation present in this condition. Her research program, funded by several funding agencies – Canadian Institutes of Health Research, National Institute for Occupational Safety and Health (CDC), Institut de recherche Robert Sauvé en Santé et Sécurité du Travail, Fonds de recherche du Québec-Santé – has contributed to the improvement of the diagnosis of occupational asthma in clinical practice.
Dr. Lemière has been part of the Asthma Clinical Assembly of the Canadian Thoracic Society (CTS) since 2001. She chaired the assembly from 2001 to 2004 and was responsible for the 2004 up-date of the Canadian Adult Asthma guidelines. She is one of the co-lead authors of the 2017 Canadian Thoracic Society position Statement: Recognition and management of Severe Asthma, and served as President of the CTS.  
Dr. Samir Gupta
Recipient, Lead Investigator Award
Dr. Gupta is a clinician-scientist at the Li Ka Shing Knowledge Institute of St. Michael's Hospital and an Associate Professor in the Department of Medicine at the University of Toronto. He is a staff respirologist in the Division of Respirology at St. Michael's Hospital. He completed his Master's degree in Clinical Epidemiology at the University of Toronto, followed by a fellowship in Knowledge Translation Research. His main research interest is in knowledge translation in primary care, across the spectrum of respiratory illness, with a focus on electronic tools and asthma. He also has an interest in rare lung disease research methods, and the hepatopulmonary syndrome in particular.
Dr. Gupta serves as Chair of the Canadian Respiratory Guidelines Committee at the Canadian Thoracic Society and holds the University of Toronto Michael Locke Term Chair in Knowledge Translation and Rare Lung Disease Research.
Medical and Scientific Advisory Committee
Meet Our Certified Respiratory Educators